Hario V60 Stainless Steel Server PLUS 600ml Black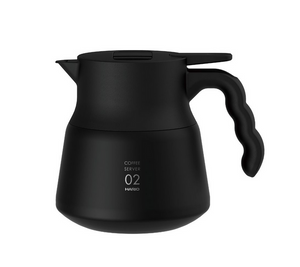 New server from Hario packed with all the functionality of the V60 Insulated Stainless Steel Server that's perfect for keeping drip coffee warm.
The lid can be disassembled for cleaning. Simply pinch the slide lever to easily attach or remove the lid.
Specifications:
- Colour: Black
- Size: W182 × D135 × H155mm  
- Capacity: 600ml
- Weight (incl. box): approx. 650g
- Inner Server material: Stainless steel
- Outer Server Material: Stainless steel (Acrylic resin coating)
- Lid Material: Polypropylene, Polyacetal, ABS resin
- Handle Material: Polypropylene