Shipping, Pickup, Subscription & Reward Beans FAQs
COVID 19 Updates
ONLINE ORDERS:
Please be patient as we are very overwhelmed with orders at this time. We are experiencing an unprecedented number of online orders so we appreciate should any delays or errors occur in the packing and dispatch of your order you notify us of any errors and whether you'd like a replacement or refund and wait for a response.
We are still roasting and packing weekdays to keep up with the demand! Orders are despatched weekdays via AusPost and will continue as long as they are allowed. There have been processing delays on their end due to overwhelming demand on the system. 
We will be supporting local couriers to despatch some deliveries, so these deliveries should get to you quicker than normal if you are in the marrickville/newtown area. 
Australia Post is experiencing a high demand on the network at this time as to be expected there are extended delays in some areas. Please check your tracking number or follow up with AusPost, as we cannot do anything once it has left. 

Please read their updates here: 
https://auspost.com.au/about-us/news-media/important-updates/coronavirus#faqs


**Express Post guarantee temporarily suspended:
Express Post is still available and will continue to be prioritised as the fastest option for customers but may not always meet the next business day delivery standard.
How much does shipping cost?
We offer a flat rate of $8.50 postage for orders under $49 and free standard shipping on orders over $49 across Australia. 
Please review at checkout for alternative options including Express Post  - this shipping will be calculated after you've added all items to your cart based on the weight of your order. 

Please check your address carefully as the address you type is what prints on the label. Errors may not be able to corrected in time and you may be asked to pay for us to resend your order if it's sent back to us.
How long does shipping take?
Please refer to AusPost for the current Covid-19 delivery impacts.

https://auspost.com.au/about-us/news-media/important-updates/coronavirus


**Express Post guarantee temporarily suspended:
Express Post is still available and will continue to be prioritised as the fastest option for customers but may not always meet the next business day delivery standard.

We ship via Australia Post, Express Post and various couriers depending on your location.
We endeavour to get your beans to you within 3-5 business days.
Our goal is to send out on the same day orders that we receive before 1pm weekdays provided everything is available to pack. Orders received after 1pm are typically sent the next business day.
Delivery can take up to a week in some areas, this will depend on Australia Post or the courier. For Express Post please keep in mind if you order on a thursday evening your order will get dispatched on Friday and you will not receive it until Monday. We can only work within the confines of the delivery network services. 
When will my order be sent?
Orders received by 1pm will usually be sent out the same day - provided everything is in stock. Orders placed after 1pm, or over the weekend or public holiday will be sent the next business day.
Please keep in mind at the moment we are experiencing a huge number of orders and AusPost pickup times have been moved earlier in the day so there might be a slight delay. 

If you contact us to make changes to your order or to the address this may delay the time it takes to process your order.
Can I track my order?
Provided you have entered a correct e-mail, eParcel will send you an email tracking for your parcel. If we have sent your order via Express Post or courier we can also track it. Please first check your tracking number as this is exactly what we will do and often delays are just due to the volume of post at this time.
Should you not get it after 5 business days please contact Australia Post for a query or check whether your local post office has it waiting to pickup. If you wait longer than 14 days and  the post office has your parcel they might return it to us. 
Any errors in shipping that are due to our error will be resent at our cost. Errors from the customer end will require repeat shipping to be paid as we are charged a return fee on top of the original shipping costs. 
Do you ship internationally?
Yes!  Please contact us if you wish to ship internationally and do not see your location listed at the checkout. We will work out the cost for your order and make it available online. For international economy the max weight allowance is 2kg for some regions so additional charges for express shipping will be required if your order is above this weight.
Can I leave special instructions for my delivery?
You may enter comments about your delivery and we will endeavour to pass these on to the carrier in charge of delivery. We cannot guarantee that these instructions will be followed, but we will try our best. Most items sent with Australia Post will be delivered in a normal fashion and may need to be picked up at your local post office. If you authorise for the carrier to leave your parcel without a signature please tick Authority to Leave during checkout and we will communicate this. When this option is selected, Coffee Alchemy, Australia Post or the relevant courier cannot be held liable for stolen or missing parcels.
Shipping Promotions
Periodically we may offer discounted or free shipping promotions that may require the use of a code entered at checkout for eligibility. We reserve the right to select the method at which we send these orders. We also reserve the right to combine shipping if multiple orders to the same location have been placed with a discounted shipping method. Selecting Express Post for these orders does NOT mean they will necessarily be sent express. Orders and processed in the order in which customers place them.
How to select local pickup in the cart
On the cart page there is a tick box to select that you wish to pickup your order. In addition to this, you will select Pickup in the delivery method tab on the checkout page. 
Select Local Pickup as your shipping method
Select the Local Pickup option under Delivery. Continue to payment and complete your order as normal. If this tab doesn't display PLEASE CLEAR YOUR BROWSER CACHE and refresh.
Order confirmation
The first e-mail you receive will confirm that your order has been placed. Please wait for a follow up e-mail to let you know your order is ready to collect. 
Completed Order notification
Once we have packed your order, it will be set aside ready for pickup. You will receive an e-mail stating it is ready to pickup. Please bring a copy of this e-mail so we know your name and order number. Refer to our opening hours for picking up or click on the View Order link in your e-mail.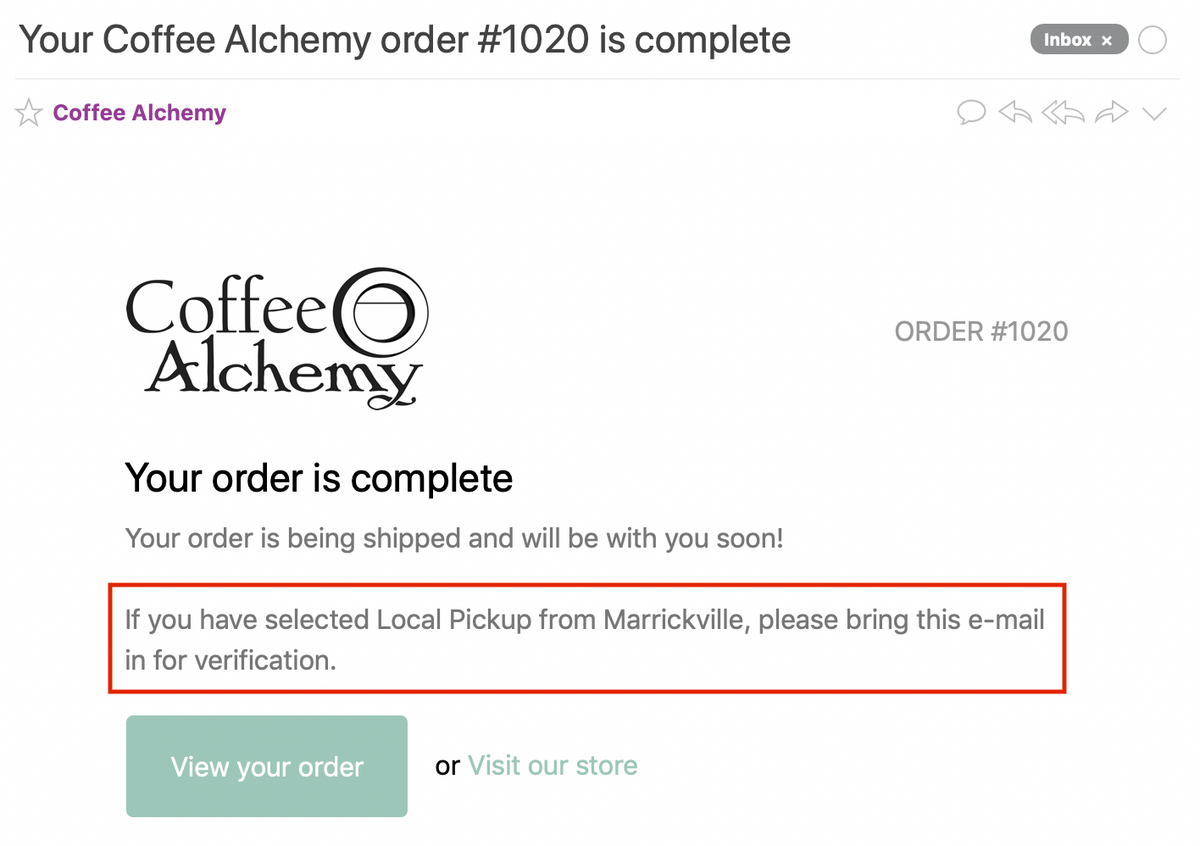 Selecting Subscription Items
You can sign up to receive a subscription that will ship to you at the frequency and number of orders you choose. You get billed for these as they process, not all in advance. 
Simply select that you would like a subscription instead of one time purchase and choose the delivery intervals and number of orders you would like the subscription length to span. 
Manage Subscription area
When you login, under your account area you will be able to access Manage Subscriptions. (NOTE: If you are on mobile you will need to scroll to the bottom, it displays UNDER your listing of order history)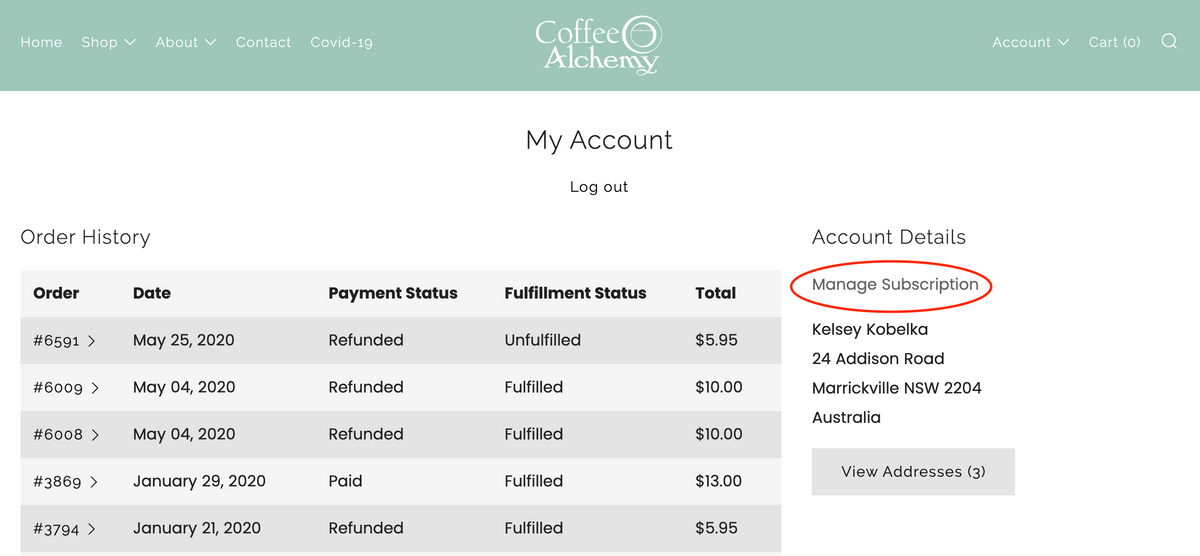 Edit Subscription Details
Within the Manage Subscription area you can skip orders, pause, resume, cancel subscription, swap products, edit frequency, edit quantity of products. You can also update your address, payment details and shipping. If you with to remove or add products please contact us. 

Within the Upcoming orders you can choose skip the next or any specific order. You can also now change the date of delivery for your upcoming subscription.

Pause/Resume Order
 You can view your upcoming order processing date, and you can choose to pause, or resume if already paused. 
Products in your Subscription
You have the ability within this area to edit the quantity of items or to swap the items for a different item. You will see all available items that you can swap to including different blends, sizes, grinds. Simply select and choose that to update your order. 
Cancel Subscription
We hope you enjoy your subscription, but if for some reason you need to cancel you can do that here also. 
What are Reward Beans
Every time you purchase on our site you accumulate points for your orders which convert to "Beans". When you are logged in, you can see this in the bottom left "Rewards" bean icon. Clicking it will bring up a window to view your account.
Earn Beans
You can view the different tabs within the popup window for information on how many Beans you have, how many to the next discount, and what codes you may already have.
Redeeming your Beans
When you have enough "Beans" you can use them to redeem for various discount codes. These codes will remain in the Discount Codes tab of the popup window, and if not used remain valid. Discount codes are not eligible with other discounts or to be used on Subscriptions.
Beans have a lifetime of 6 months, after which they expire. You will receive an email notice of their expiration 7 days ahead of them expiring.
Bean Discount Codes
Your codes will remain in the discount codes tab for you to copy and apply at checkout. Please note that you cannot aply a discount to a subscription order.